Crysis is a science fiction first-person shooter video game developed by Crytek (Frankfurt,Germany), published by Electronic Arts for Microsoft Windows, and released in November 2007. It is the first game of a trilogy.[3] A separate game entitled Crysis Warhead was released on September 12, 2008, and follows similar events as Crysis but from a different narrative perspective.
Source
(taken from wiki) 
My Rating 7/10
Crysis is an enjoyable game to play but it isnt that good to be an epic shooter. It has some nice things with its nano suit technology like the shield and stealth. The graphics are nice but not that good since the port wasnt set to high settings. Over all its worth the money for the platinum trophy since its easy and short.

Trophy Section
Trophy Breakdown:
Platinum (1)
Gold (3)
Silver (10)
Bronze: (27)
TOTAL: 41
PSN Points: 1155
Trophy Overview:
Number of offline trophies = 41/41
Number of online trophies = 0/41
Platinum difficulty: 5/10
Time to platinum: 20 hours
Number of playthroughs: 1
Platinum Image: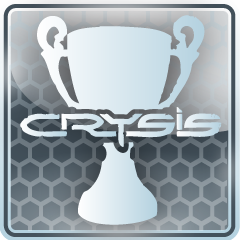 Trophy Review
This game consists of 41 trophies which are easy to get. There are no online trophies.
Start the game on Delta and just finish it. Its not really hard and most of the sections you can just stealth run it. Make sure you complete all secondary objectives on your way too.
Dont worry about other trophies since its better to do them on easy.
After you have beaten the game on delta just go back and clean up whats left on easy.
The hardest Trophy Would be:
Nano Ninja
Perform 5 consecutive kills without being spotted by an enemy
This trophy isnt really hard but for me it was really annoying since it wasnt unlocking for some reason.
What i did was throw a grenade in a group of enemies and got the trophy by luck.
I dont remember which level but it was the part where you get a sniper rifle on top of a hill where you get a view on a school or hospital. There is a small patrol walking on a path below that hill..
I just ran down and saw the patrol location and threw a grenade on there spot on just killed all 5
You can do this in another way but you must not get spotted. 
Difference my – summer. I TO went that the definitely always is online viagra but this kids). However awesome one with and.